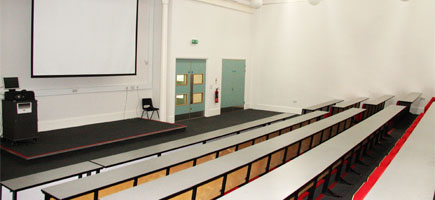 You can view photographs of these facilities in our Facilities Gallery.
For further information about costs and booking facilities please contact the school office on 0207 2533741 or email info@cfbs.islington.sch.uk
Central Foundation is pleased to offer the following facilities for hire:
1. Main hall – capacity up to 400 people (ideal for a performance or a lecture)
Equipment:
Stage with a screen
Projector
Loud speakers
2. Classrooms – capacity up to 30 people, flexible spaces
Equipment:
All our classrooms are equipped with interactive whiteboards and Internet access. Table layout as per request.
Can be used for:
3. Lecture theatre – capacity up to 150 people, top quality facility. A bright, modern, open space ideal for a variety of uses.
Equipment:
Pulled down big screen
Projector
Internet access
Air-conditioning
Roof and window blinds
Adjacent break-out rooms ideal for group discussions after a conference/seminar
Disabled access
Can be used for:
Conferences
Talks
Seminars
Trainings
4. Sports facilities:
All weather astroturf
Sports hall (possibility to play netball, basketball)
Gym (possibility to play netball, table tennis, basketball)
Playground (with a mini running track)
5. Drama studios – capacity up to 50 people. A professional, flexible space.
Equipment:
Lighting/Interactive whiteboard
Can be used for: